Heritage Home Revitalization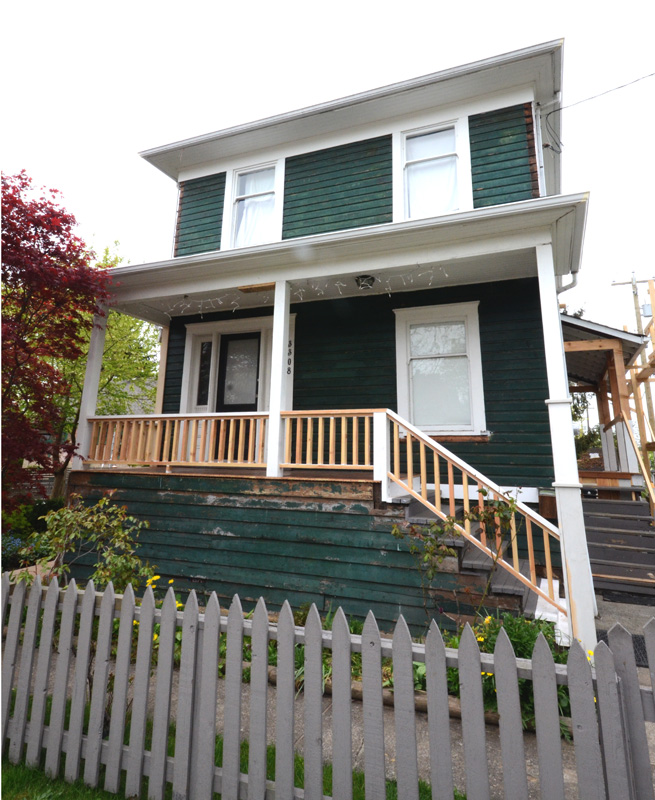 The Prefontaine Residence was constructed in 1902 in the South Cambie neighbourhood during a period of immense growth in Vancouver – growth that led to one of the largest housing boom that the City had seen to date.  The architectural building style of the time was both Edwardian and modest. Homes were built with accessible and locally sourced materials and were constructed to be functional family dwellings – absent of the decorative elements that defined the previous Victorian and Queen Anne architectural periods.
By the early 1900's, residential development began to increase steadily in the South Cambie neighbourhood. The Prefontaine Family, who arrived to Vancouver from Quebec in the late 1800's, were among the first residents of the area. The Prefontaines had two homes constructed on the lot at the corner of West 17th Avenue and Ash Street, one large primary residence at the North end of the lot and a secondary smaller home at the rear. The homes were sold in 1909 and quickly sold again in 1910 to a man by the name of James Livingston Miller.
In 1914 Miller demolished the main residence – Heritage Consultant Don Luxton and his team analysed available historical records and we're unable to determine whether the demolition was due to incident or whether the dwelling was intentionally torn down to make room for a more grand primary residence. History may sway our opinion to the latter, like today's state of housing development, it was common place during this period to tear down, build bigger and sell the home to capitalize on the high demand in the housing market.
Once the main residence was demolished there was never a new primary residence constructed. It has been suggested that the out break of WWI and the following years of recession and war thwarted Miller's attempt to build a new home and is the reason why the North end of the lot remains vacant to this day.
Heritage consultant, Don Luxton, is working with us, Extraordinary League Contracting, to rehabilitate the smaller of the two homes that continues to stand solo on the lot today. This exterior heritage revitalization project consists of hazardous material abatement, rehabilitation of the traditional wood-frame construction, replication of some of the missing porch and veranda elements that would have been original to the home, careful window and door restorations and finally a fresh coat of paint – with colours selected from Benjamin Moore's True Colours heritage palate.
Another local history blog by EXLE Contracting!