Historic Ramsay Warehouse Demo'd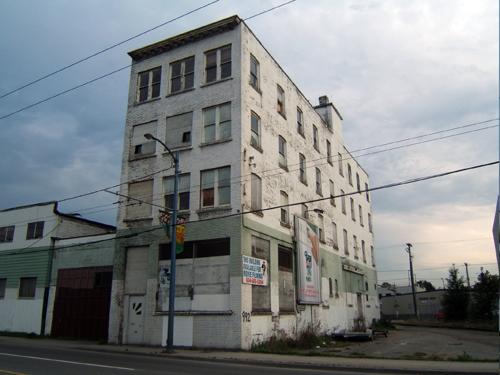 Driving down Powell Street this past month we were noticing that one by one buildings were being fenced off and demolished between Hawks and Raymur. It looked as though the Ramsay Brothers Warehouse was going to share the same fate and in fact it has.
The Ramsay Brothers and Company Warehouse, built in 1912 for $17-thousand, was a brick-four-storey, manufacturing warehouse  in Vancouver's waterfront industrial area – near the port and railway.
This building is an important part of Vancouver's industrial history – being one of the city's last Edwardian warehousing structures. The Ramsay Brothers were biscuit makers and used the facility to manufacture and distribute confectionary and food products throughout Western Canada – conveniently located across the street from Roger's Sugar Refinery.
The building also holds cultural significance because of James Ramsay's (1862-1935) involvement in local politics, public affairs and industry advocacy. A well regarded man of many talents – James Ramsay held the following positions and titles:
Vancouver's acting Mayor for 7 years,
Was a BC MLA for 4 years,
Sat as the chair of the Vancouver School Board for 10 years,
Was president of the Canadian & BC Manufacturer's Association,
One of the eldest members of the Vancouver Board of Trade.
The building was eventually condemned – ending its use as an industrial manufacturing warehouse – but like all viable vacant buildings in Vancouver – it was quickly converted for other uses – in this case a  living space and music rehearsal space. Vacant in its most recent years, the building was used as a movie filming location.
Despite being classed on the Vancouver Heritage Register as a B-rated building, it's now slated to be demolished due to a realignment of Powell Street, and a new overpass from an additional railway line in front of the Rogers BC Sugar buildings.
Notwithstanding its 'B' rated classification on the Vancouver Heritage Register the building is currently being demolished to make way for the $50-million Powell Street Overpass project that will include: an additional rail-line on the north-side of Roger's Sugar Refinery,  the reconfiguration of Powell Street and a new overpass to access the new rail infrastructure.
The goals of the project are to expand capacity and enhance the rail network that supports the movement of goods through Port Metro Vancouver and to improve access and safety for pedestrians, cyclists, and commuters in the Powell Street corridor.
[scrollGallery id=27 start=0 autoScroll=false]
It is unfortunate that other buildings in the area with less significance and historical value will remain – perhaps incorporating the building into the enhancement project would show City's support for thoughtful improvements. Industrial areas in Vancouver with historical significance – suffer greatly as there is not a community of supporters there to fight to keep meaningful historical structures like there are in residential neighbourhoods. Unfortunately it is not until buildings like these are nearly absent from the city-scape that we curse not having held the city to be more accountable to our depleting stock of heritage buildings.
Watching this building site being prep'd for demolition Extraordinary League Contracting saw the opportunity to salvage some of the 15′ fir beam timbers from the Ramsay Warehouse before it is a pile of rubble. The beautiful fir timbers are in good hands – they will be cleaned up and passed on to Vancouverites that share our same penchant for historical local treasures.
While in the Ramsay Warehouse we found these confectionary bag seals with the Ramsay logo on them and the names of a few of their treats – including 'Jam Jams', the 'Graham sandwich' and their 'Graham Wafer'. A cool find that will always remind us of the building's past.
Another local history blog by EXLE Contracting!